It was hot and humid here at the beach last night, so we decided to get our "chill" on. We dimmed the lights and spent time making nori rolls and Kombucha Sangria. There's nothing like peace and laughter in the kitchen on a hot summer night.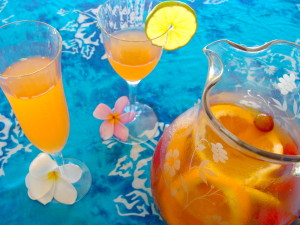 Kombucha Sangria
Author:
www.SummersKitchen.com
Grain-Free, Gluten-Free, Dairy-Free, Soy-Free, Worry-Free
Ingredients
1 large organic orange, sliced
½ cup organic strawberries
½ cup organic grapes
2 organic kiwis, peeled & sliced
1 organic lime, sliced
3½ cups organic white wine
1 bottle (16 oz) Guava Goddess Kombucha
¼ cup raw honey
1 cup spring water (OR) wait and add 1 cup sparkling bubbly water before serving.
Instructions
In a glass pitcher, add all fruit after preparing and slicing.
Add wine, Kombucha, spring water and honey.
Stir to blend.
Refrigerate for 6-8 hours, or overnight.