My Vitamin C Bowl is naturally loaded with vitamin C. I kept this snack simple and smooth the way most kids like it; however, other toppings can be added such as toasted coconut, blueberries, or even grain-free granola.
Nutrients: vitamins A, C, B6, folate, potassium & magnesium.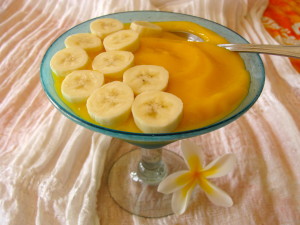 Vitamin C Bowl
Author:
Summer Williams, www.SummersKitchen.com
Recipe type:
snack, dessert, breakfast
Grain-Free, Gluten-Free, Dairy-Free, Soy-Free, refined Sugar-Free. Rich in vitamin A, C, B6, folate, potassium & magnesium.
Ingredients
1½ cups frozen organic mango
½ cup organic orange juice
½ tbsp raw honey
1 banana, sliced
Instructions
Place mango, orange juice and honey in a high speed blender.
Blend until smooth.
Top with sliced banana.
*Note: I find organic frozen mango at Trader Joe's or Costco.
Save