Fresh Nectarine Paleo Muffins are one of my favorite fall treats right now! These are NOT SCD legal, but they are gluten-free/grain-free/paleo, and oh-so-good!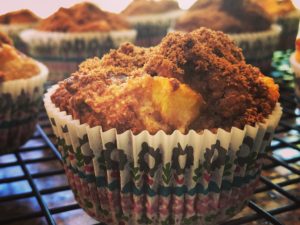 Nectarine Paleo Muffins
Author:
Summer Williams www.SummersKitchen.com
Prep time:
Cook time:
Total time:
Grain-free, gluten-free, dairy-free, refined sugar-free, soy-free, corn-free, paleo
Ingredients
3 cups almond flour
3 eggs
1 cup fresh nectarines, peeled and chopped, with pit removed
½ cup grapeseed oil
⅓ cup maple syrup
½ tsp baking soda
½ tsp sea salt
¼ cup coconut sugar
Instructions
Preheat oven to 350 degrees
Line muffin tins with paper liners
Stir together almond flour, eggs, nectarines, grapeseed oil, maple syrup, baking soda, and sea salt.
Fill each muffin liner to ¾ full.
Sprinkle a teaspoon of coconut sugar over each muffin.
Bake for 22-26 minutes, or when they are slightly firm to the touch.