Curcumin is a component of turmeric that is highly anti-inflammatory. This milk is dairy-free, mildly sweet, and mild in flavor. We use it therapeutically, as well as just to enjoy it's delicate flavor.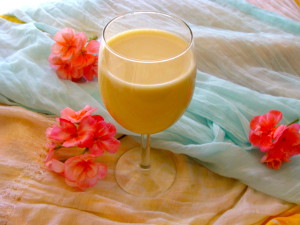 Anti-Inflammatory Turmeric Milk
Author:
Summer Williams www.SummersKitchen.com
Dairy-Free, Gluten-Free, Grain-Free, Soy-Free, Refined Sugar-Free, Paleo, Raw, Anti-Inflammatory
Ingredients
1 cup slivered almonds, soaked and drained (soak in spring water for 4 hours)
4 cups spring water
5 dates, pitted
3 inches raw turmeric root
Instructions
Place all ingredients in a high speed blender.
Blend until smooth.
Strain milk through a nut milk bag or a fine mesh cloth.
Refrigerate, and drink within 3 days.