Blueberry Muffins were on the quick and easy menu this morning. I used Costco's organic blueberries, which were bursting with flavor!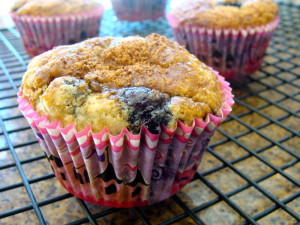 Blueberry Muffins
Author:
Summer Williams www.SummersKitchen.com
Recipe type:
Breakfast, snack
Prep time:
Cook time:
Total time:
Paleo, grain-free, gluten-free, dairy-free, soy-free, refined sugar-free
Ingredients
2 cups blanched almond flour (the equivalent of 1 bag of Trader Joe's blanched almonds, ground in a coffee grinder)
½ tsp baking soda
½ tsp sea salt
½ tsp pure vanilla powder
⅓ cup grape seed oil or coconut oil
⅓ cup honey
3 eggs
½ cup frozen or fresh organic blueberries
coconut sugar to sprinkle on top
Instructions
Preheat oven to 350 degrees.
In a medium size bowl, combine almond flour, baking soda, sea salt, and vanilla powder.
Add oil, honey, eggs, and blueberries.
Stir to combine.
Line muffin tins with paper liners.
Fill each muffin tin to ¾ full.
Top each muffin with ¼-1/2 tsp of coconut sugar.
Bake for 20 -22 minutes, or until muffin bounces back to the touch.
Do not over bake. Muffins are nearly done when you begin to smell them.