Hazelnut milk is one of my favorite nut milks. It's full of vitamin E, which is great for tissue and skin.
Hazelnuts are also rich in the minerals magnesium, phosphorous, zinc, copper, iron, manganese, calcium, and selenium.
Hazelnuts are also rich in vitamins K, folate, thiamin, and niacin.
My favorite nut milk bag is Ellie's Best Bigger Better Nut Milk Bag, which can be found on Amazon.com.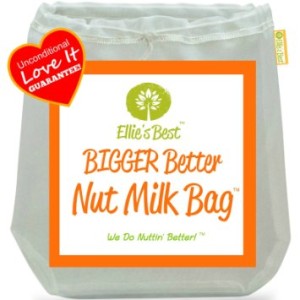 Hazelnut Milk
Author:
Summer Williams www.SummersKitchen.com
Paleo, grain-free, gluten-free, dairy-free, soy-free, refined sugar-free
Ingredients
1 cup hazelnuts, soaked overnight (at least 4 hours)*
4 cups spring water
5 dates, pitted
tiny pinch of sea salt
nut milk bag, or a cloth to strain milk.
*I buy my hazelnuts at Trader Joe's
Instructions
Drain hazelnuts after soaking over night.
Place hazelnuts in a high speed blender.
Add 4 cups spring water, pitted dates, and pinch of sea salt.
Blend on high for 90 seconds.