I love this creamy, smoky butternut squash soup. The cumin adds just enough flavor, while keeping it's delicate sweetness. It's great on it's own, or paired with a gluten-free sandwich.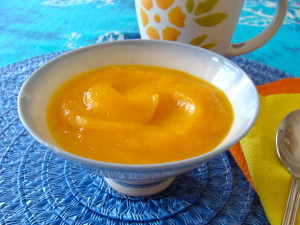 Smoky Butternut Squash Soup
Author:
Summer Williams www.SummersKitchen.com
Prep time:
Cook time:
Total time:
Paleo, grain-free, gluten-free, soy-free, dairy-free, refined sugar-free
Ingredients
3 lbs butternut squash
1 large onion, chopped
3 medium carrots, chopped
1 stalk celery, chopped
1½ tsp sea salt
2 tsp cumin
¼ tsp black pepper
1 cup chicken broth
Instructions
Preheat oven to 375 degrees.
Cut squash in half, lengthwise.
Bake face down until fork punctures skin of squash easily.
Once squash is cooked, scoop squash out of skin.
Discard skin, and place squash into a high speed blender.
In a large cast iron skillet or pan, saute' onions, carrots and celery until soft.
Add sauteed onions, carrots, and celery to blender with squash.
Add sea salt, cumin, black pepper, and chicken broth to blender.
Blend until smooth.