Organic Sauerkraut is one of the best things you can add to your diet to help restore proper balance in the intestines and boost your immune system! I kept this recipe small and simple for your first try. When you get the hang of it, make larger batches, or begin to add other veggies and spices!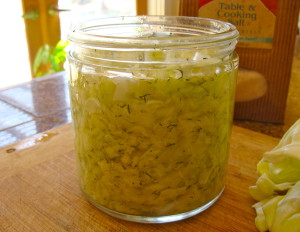 Super Simple Sauerkraut
Author:
SummersKitchen.com
Grain-Free, Gluten-Free, Soy-Free, Dairy-Free, GAPS, SCD, Paleo
Ingredients
½ head organic cabbage
½ tsp dill
2 tsp sea salt
Glass jar(s) with plastic lid(s)
Instructions
Thinly cut cabbage into shreds
Place cabbage shreds in large bowl
sprinkle sea salt over cabbage
Let sit for 15 minutes
After 15 minutes, add dill
Using your hands, press and squeeze cabbage to soften and release juices
Pack cabbage into glass container(s)
Pour in any extra juices left in bowl
Using a plastic lid, screw down, but not tight (just about halfway tightened)
Place jar(s) on a plate with a lip or in a pie dish.
Place in dark area of kitchen or pantry for one week.
After one week, tighten lid completely and place in refrigerator.
Sauerkraut is best after a month in the refrigerator. If you wait this long, it will actually keep for several months!