I love a thick and chunky cranberry sauce.  The added walnuts add the perfect crunch to this side dish!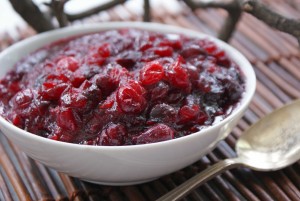 Summer's Cranberry Delight
Author:
Summer Williams www.SummersKitchen.com
Prep time:
Cook time:
Total time:
Paleo, grain-free, gluten-free, dairy-free, soy-free, refined sugar-free
Ingredients
2 12 oz. bags of fresh cranberries
1½ cups apple juice or orange juice
2 cups honey
2 tsp. cinnamon
1 cup raisins
1 cup chopped walnuts
2 chopped apples, optional
Instructions
In a medium to large size sauce pan over medium heat, add cranberries, juice, honey, cinnamon, and raisins.
Heat to a boil.
Reduce heat and simmer until the cranberries start to pop. This may take up to 10 minutes.
Toss in chopped walnuts.
Remove from heat and place sauce in bowl.
The cranberry sauce will thicken as it cools.