This dish is one of my all time favorite meals. I feel so energized after eating my Spaghetti Squash with Walnut Pesto Sauce!  Basil is naturally full of vitamins A, C and K, manganese, copper, calcium, iron, folate, and flavonoids which protect the body at a cellular level! It's anti-inflammatory and naturally Paleo and gluten-free!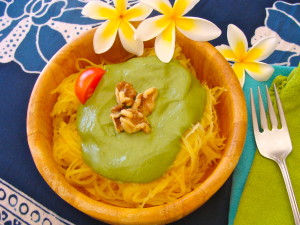 Spaghetti Squash & Walnut Pesto Sauce
Author:
Summer Williams, www.SummersKitchen.com
Prep time:
Cook time:
Total time:
Grain-Free, Gluten-Free, Dairy-Free, Soy-Free, Refined Sugar-Free, Anti-inflammatory. Rich in Vitamins A, C, K, manganese, copper, calcium, iron, folate and magnesium.
Ingredients
1 organic spaghetti squash
4 oz package Trader Joe's fresh organic basil, de-stemmed (or) 1 TIGHTLY packed cup of organic basil leaves
½ cup walnuts
½ cup organic olive oil
½ cup organic chicken broth (home-made or gluten-free)
2 Tbsp fresh squeezed organic lemon juice
1 tsp pink salt or sea salt
2 cloves fresh organic garlic, peeled
Instructions
Heat oven to 350 degrees.
With a sharp knife, slice ends off of spaghetti squash
Slice in half lengthwise. It may be easier to slice one side and then the other, rather than both sides at once.
Scoop out the seeds and discard, or save for the garden.
Place flat side down on a cookie sheet
Bake 45 minutes to 1 hour. It's done when a fork can puncture the skin easily.
Remove from oven and set aside to cool.
SAUCE:
In a high speed blender add all other ingredients except spaghetti squash.
Blend until smooth.
When spaghetti squash is cool, scoop "spaghetti" into bowls.
Top with sauce.
Garnish with additional walnuts or sliced cherry tomato.