Sauerkraut juice is a fermented, healing food which I often substitute for vinegar. It translates really well with this recipe! My mayonnaise is dairy-free, gluten-free, soy-free, and refined sugar-free.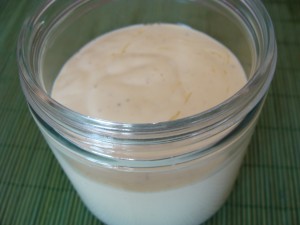 Fermented Mayonnaise
Author:
SummersKitchen.com
Recipe type:
Sauces & Dips
Dairy-Free, Soy-Free, Gluten-Free, Grain-Free, SCD, GAPS
Ingredients
2 egg yolks
4 Tbsp. sauerkraut juice, or apple cider vinegar
½ tsp dry mustard
1 tsp sea salt
¼ tsp freshly ground pepper (optional)
½ tsp dill (fresh or dry)
1 tsp raw honey
1 cup grapeseed oil (or other oil of choice)
Instructions
Blend egg yolks, sauerkraut juice, dry mustard, salt, pepper, dill, and honey in a blender.
SLOWLY add oil while blender is running.
Mayonnaise will thicken while oil is being poured in.
Note: If mayonnaise curdles as it is being made, pour mayonnaise into another container and set aside. Add one whole egg to blender and whip. Then slowly add mayonnaise back to blender while whipping.