Organic Rosemary Chicken Soup is one of my favorite soups during the fall and winter. I like to top it with toasted pumpkin seed oil, and crumble my garlic oregano crackers on top.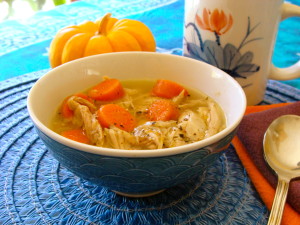 Rosemary Chicken Soup
Author:
SummersKitchen.com
Prep time:
Cook time:
Total time:
Grain-Free, Gluten-Free, Dairy-Free, Soy-Free, SCD, GAPS Stage 1, Paleo
Ingredients
1 organic gluten-free cooked rotisserie chicken, or 2 packages of organic chicken legs and thighs.
6 large carrots
1 large onion, quartered
5 stalks celery
1 large sprig of fresh rosemary, or 2 Tbsp dried rosemary
1 Tbsp dried oregano
1 Tbsp sea salt
1 tsp white pepper
spring water, enough to cover chicken carcass and veggies
*Optional: Toasted Pumpkin Seed oil to drizzle on top of soup before eating.
Instructions
Remove meat from rotisserie and set aside. Place carcass in large pot (OR) if using legs & thighs, place them in large pot.
Add onion, celery, rosemary, oregano, salt, and white pepper.
Add enough water to cover carcass and vegetables. Bring to a boil. Then turn down to simmer for 2 hours.
After 2 hours, add whole carrots.
Simmer for 45 more minutes.
When cool enough, pour soup into a large bowl through a mesh strainer.
Pull out carrots and set aside. Set broth aside.
Discard anything else left in the strainer.
Taste-test broth to see if it needs a pinch more sea salt.
Chop reserved chicken into bite-size pieces (OR) pull chicken meat from bones if using legs & thighs.
Slice carrots into coins.
In glass Ball jars or old pickle jars, layer chicken and carrots until jar is full. Then, top off with broth.
Continue filling jars with remaining chicken and carrots. Store any remaining broth up to 7 days, or save broth in freezer safe containers and freeze for later use.
Once soup is cool, top jars with lids and refrigerate.
Now you have something to pull out of the fridge during the week! All you have to do is pour contents of one jar into a saucepan. Heat and serve!