When I was a kid, my favorite chocolate candy was Reese's Peanut Butter Cups. I loved the creamy nutty flavor combined with smooth chocolate. Here is my healthy version. It's raw, dairy-free, gluten-free, and refined sugar-free.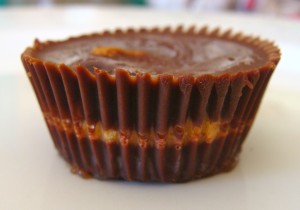 Raw Nut Butter Cups
Author:
SummersKitchen.com
Gluten-Free, Dairy-Free, Soy-Free, Refined Sugar-Free, Raw
Ingredients
1 cup organic virgin coconut oil
½ cup raw cacao powder
½ cup raw honey
⅔ cup nut butter (Trader Joe's Valencia peanut, or almond butter)
⅓ cup pitted dates (approximately 6)
⅛ tsp sea salt
2 mini-muffin tins
24 mini paper liners
Instructions
Blend or stir cacao, coconut oil, and honey together until smooth. The honey may continue to settle. Stir occasionally.
Place ½ Tbsp cacao mixture into paper lined mini-muffin tins.
Place muffin tins in freezer.
In a food processor, combine nut butter, dates, and salt. Blend until smooth.
If the nut butter is too thick add water, 1 Tbsp at a time, until the nut butter is able to blend smooth but not watery. It's okay if you see fragments of dates.
Grab muffin tins from freezer and add a ½ Tbsp of nut butter to each cup.
Top each nut butter cup with ½ Tbsp of cacao mixture.
Place both tins in freezer and freeze for at least 1 hour. Keep frozen until eaten. Caution: They're rich and addictive. One cup goes a long way!
Note: Any left over cacao mixture can be used to make chocolate coins by adding ½ Tbsp of cacao mixture to more paper lined mini-muffin tins. With a few drops of mint extract, you can have mint chocolate coins! Just place in freezer and remove as needed.