We just returned from Baja, where the mangos taste like Starburst candy. If you can find mangos in your market this time of year, try my delicious Raw Mango Pie. It's loaded with vitamin A, beta-carotene, and vitamin C. It's a little messy and a little addictive!!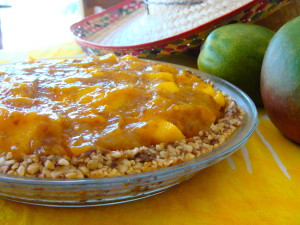 Raw Mango Pie
Author:
Summer Williams www.SummersKitchen.com
Gluten-Free, grain-free, dairy-free, soy-free, refined sugar-free, egg-free, raw, paleo, vegetarian
Ingredients
CRUST:
1¼ cups blanched slivered almonds
1 cup dates, pitted
1 Tbsp water
½ tsp pure vanilla, or pure vanilla powder
1 tsp cinnamon
2 tsps ground flaxseed
FILLING:
2 cups sliced or chopped mango, layered on top of crust
1 additional cup sliced mango (for sauce)
4 dates, pitted
1 Tbsp raw honey
2 tsps ground flaxseed
Instructions
CRUST:
In a food processor, chop almonds until evenly ground.
Add the dates and process until they are finely ground.
Add water, vanilla, cinnamon, and ground flaxseed while processing.
Immediately press the mixture into a 9″ pie plate. I often use the back of a spoon to help smooth and work the crust.
You can use the crust 'as is' for this recipe, or place in the oven at 200 degrees for 10 minutes.
FILLING:
Layer 2 cups sliced mangos upon crust.
In food processor, combine 1 additional cup mangos and 4 dates.
Add honey.
While the food processor is still running, gradually add flaxseed.
When the mixture is thick and smooth, immediately pour over the layered fresh mangos on crust. Using a spatula or spoon, smooth the mango puree' around and into the crevices.
Refrigerate for 1 hour before serving.
Best served same day.
Note: It's a little messy getting the first slice out of the dish, but once you taste it, it won't matter.
Save
Save