It's still warm and sunny here at the beach, but I couldn't help but make my pumpkin spice muffins to snack on through the week!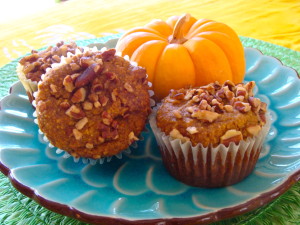 Pumpkin Spice Muffins
Author:
SummersKitchen.com
Recipe type:
Breakfast, Snack
Prep time:
Cook time:
Total time:
Grain-Free, Gluten-Free, Dairy-Free, Soy-Free, Refined Sugar-Free, GAPS, SCD
Ingredients
3 cups blanched almond flour
3 large organic eggs
1 cup organic pumpkin puree'
½ cup coconut oil or grapeseed oil
½ cup honey
1½ tsp ground cinnamon
1 tsp ground nutmeg
½ tsp ground ginger
1 tsp sea salt
1 tsp baking soda
¼-1/3 cup chopped pecans
NOTE: I found all of my ingredients at Trader Joe's.
I buy raw slivered almonds and grind them into a flour with a coffee grinder.
Instructions
Preheat oven to 350 degrees.
Place muffin liners in muffin tins.
Combine all ingredients except pecans in a medium/large bowl.
Fill each paper lined tin to ¾ full.
Sprinkle pecans over top of each muffin.
Place muffins in oven.
Bake for 22 minutes, or when muffins bounce back to the touch.