This is my super simple breakfast of champions!  Fermented vegetables are naturally full of good bacteria (probiotics) which helps keep your immune system remain strong and balanced. The combination of the warm poached egg on a bed of cold sauerkraut and avocado tastes so good, and gives me a great sense of balance and energy in the morning. I think you might like it too!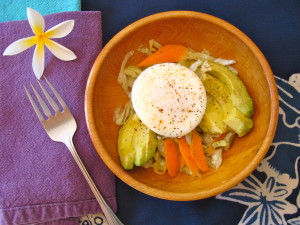 Poached egg with avocado and fermented veggies
Author:
Summer Williams www.SummersKitchen.com
Prep time:
Cook time:
Total time:
Paleo, Grain-Free, Gluten-Free, Dairy-Free, Soy-Free, Refined Sugar-Free
Ingredients
1 or 2 organic eggs
organic sauerkraut or homemade fermented vegetables
1 organic avocado, peeled and sliced
sea salt
black pepper
paprika (optional)
Instructions
Poach egg in a handy dandy egg poacher (egg poacher tray can be found on Amazon or Bed Bath and Beyond).
While egg is poaching, scoop a heaping tablespoon of fermented vegetables (sauerkraut) into a bowl.
Top fermented vegetables with sliced avocado.
Top avocado and sauerkraut with poached egg.
Sprinkle with salt, pepper, and paprika.