My Paleo Banana Pancakes are naturally grain-free and oh-so-simple! They are delicious just as they are, or drizzle with a little grade-B maple syrup and garnish with your favorite toppings of nuts, seeds, berries, coconut whipped cream or cacao nibs.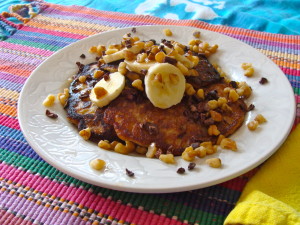 Paleo Banana Pancakes
Author:
Summer Williams www.SummersKitchen.com
Prep time:
Cook time:
Total time:
Paleo, Grain-Free, Gluten-Free, Dairy-Free, Soy-Free, Refined Sugar-Free
Ingredients
½ -1 Tbsp coconut oil (for pan)
2 ripe bananas
1 organic egg
¼ tsp cinnamon
⅛ tsp vanilla powder
grade-B maple syrup or raw honey
optional garnishes: walnuts, pecans, cacao nibs, berries
Instructions
Begin heating cast iron skillet over medium-high heat.
Place coconut oi in pan to coat bottom of pan.
Place 2 peeled bananas, 1 egg, cinnamon and vanilla powder in high speed blender.
Whip until smooth.
Pour ¼ cup batter into pan.
Once browned on bottom, flip to brown other side.
Once all pancakes are made, enjoy them plain or with a drizzle of syrup and some garnishes.