I'm enjoying a peaceful Sunday morning with one of my favorite green smoothies. It's so mild and sweet that even the kiddos enjoy it (once they get over the fact that it's green!)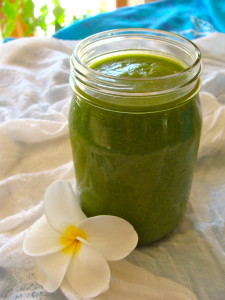 Summer's Mild & Sweet Green Smoothie
Author:
www.SummersKitchen.com
Grain-Free, Gluten-Free, Dairy-Free, Soy-Free, refined Sugar-Free
Ingredients
3 packed cups organic spinach (6 oz bag of Trader Joe's organic baby spinach)
2 cups papaya, peeled and deseeded
1 cup cucumber, peeled
½ avocado
¼ cup (or 2 inch piece) organic creamed coconut by Let's Do Organic.*
18 drops liquid stevia in glycerin (not alcohol)
8 large ice cubes
1 cup spring water
Instructions
Place all ingredients in high speed blender, beginning with spinach.
Blend until smooth.
*NOTE* Creamed Coconut comes in a little green box by Let's Do Organic. Depending on the temperature, it may be liquid or solid; hence the two different measuring options. Creamed Coconut becomes a liquid at temperatures above 84 degrees.