My Kid's Choice Beef Stew is simple in texture and rich in flavor. I cut the carrots and potatoes into very small pieces. This way, it's easier to eat and much more appealing to little ones.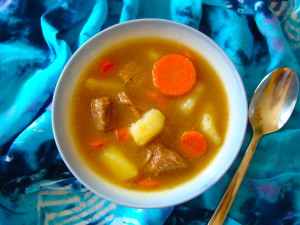 Kid's Choice Beef Stew
Author:
Summer Williams www.SummersKitchen.com
Prep time:
Cook time:
Total time:
Grain-free, gluten-free, dairy-free, soy-free, refined sugar-free, egg-free, nut-free
Ingredients
2 1⁄2 pounds grass-fed beef, cut in 1-inch cubes
2 Tbsp coconut oil or avocado oil
6 cups gluten-free beef broth
1 Tbsp sea salt
1⁄2 tsp black pepper
4 cups peeled, cubed gold potatoes (peeled and cubed into small pieces)
*1 cup caramelized carrots *see recipe below
1 bay leaf
1⁄2 cup spring water
4 Tbsp arrowroot powder
Instructions
In a large soup kettle or soup pan, brown beef in oil.
Add broth, salt, and pepper.
Heat to a boil.
Cover and simmer 2 1⁄2 hours, until beef is almost tender.
Stir in cubed potatoes and bay leaf.
Cover and simmer for 30 minutes.
*In a medium size cast iron skillet, add 1 Tbsp of coconut oil, and 1 cup of finely sliced, or chopped carrots.
Cook and stir over medium heat until carrots are bright and tender.
Set aside.
Mix ½ cup spring water and arrowroot powder together, then gradually stir into stew.
Add caramelized carrots to the stew.
Heat to a boil and stir 5 minutes more to thicken.
Stew tastes even better the next day after all flavors have had a chance to merge.
NOTE: A finely chopped onion may be added in the beginning to broth; however, many kids don't like the texture of onion.