Here is my super simple Raw Cashew Creme Cheesecake.  I made this cheesecake for my mother's wedding and decorated it with edible flowers.  After all, I used to say I went to weddings for the cake. Seriously. I LOVED wedding cake!  This was my way of  having my cake and eating it too!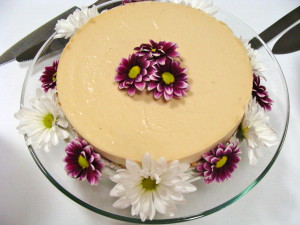 Raw Cashew Creme Cheesecake
Author:
SummersKitchen.com
Dairy-Free, Grain-Free, Gluten-Free, Soy-Free, Refined Sugar-Free
Ingredients
Crust:
2 cups macadamia nuts
½ cup dates, pitted
¼ cup dried, unsweetened coconut
Filling:
3 cups cashews, soaked in water for 4-6 hours (or overnight)
¾ cup fresh squeezed lemon juice (or lime)
¾ cup raw honey
¾ cup coconut oil, gently warmed to a liquid
1 tsp Frontier alcohol-free vanilla (in a glycerin base), or pure vanilla powder
½ tsp sea salt
Instructions
Crust:
In a 9-inch Springform pan, sprinkle coconut as evenly as possible.
In a food processor, process macadamia nuts and dates just until chopped and mixed.
Spread mix on top of coconut and press firmly and evenly to cover bottom of pan.
Set aside.
Filling:
In a high speed blender or large food processor, blend the drained cashews, lemon, honey, coconut oil, vanilla and sea salt.
Blend until smooth. This may take 5-7 minutes.
Pour the mixture onto the crust and spread evenly.
Place in freezer for a minimum of one hour. I like to make this cheesecake the night before an event.
Remove one hour before serving.
Store in refrigerator (or freezer if it won't be eaten within a few days).
Always serve chilled.