These little nuggets are creamy and crunchy all at the same time. They're super delish and will dissapear within minutes in my kitchen. It's a good thing, because they're best eaten the very same day.
Here are some fun facts: You probably know kale is a nutritient dense super food! It's rich in calcium, vitamins A, C, & K, copper, potassium, iron, manganese, and phosphorus. Kale also has sulphur containing phytonutrients which are highly beneficial to the liver! When we're not juicing it, we make these tasty little snacks.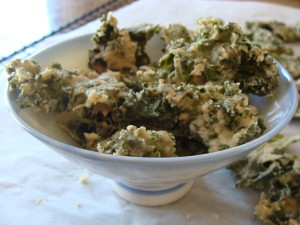 Creamy Crunchy Kale Chips
Author:
SummersKitchen.com
Prep time:
Cook time:
Total time:
Dairy-Free, Grain-Free, Gluten-Free, Soy-Free, Refined Sugar-Free
Ingredients
8 cups kale, destemmed and completely dry
2 cup cashews (soaked in spring water 4-6 hours)
4 teaspoons mustard powder
1 teaspoon sea salt
1 teaspoon dried onion (or) ½ tsp onion powder
½ teaspoon garlic powder
½ teaspoon cumin
2 teaspoon Italian seasonings
⅛ tsp black pepper
½ cup water
Instructions
Preheat oven to 300 degrees.
Drain and discard water from soaking cashews.
Place kale in large bowl.
Place all other ingredients in high speed blender.
Blend until smooth.
Pour sauce over kale.
Mix with your hands until kale is well coated.
Line cookie sheets with parchment paper.
Evenly spread kale (without overlapping) on cookie sheets.
Bake for 30 minutes.