Chocolate Covered Strawberries. Need I say more?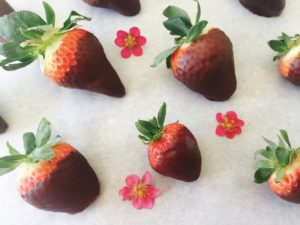 Chocolate Covered Strawberries
Author:
Summer Williams www.SummersKitchen.com
Prep time:
Cook time:
Total time:
Gluten-free, grain-free, soy-free, refined sugar-free, dairy-free
Ingredients
½ cup cacao butter (I use Sunfood)
¼ cup cacao powder
5 Tbsp honey
20-30 organic strawberries, refrigerated
parchment paper
Instructions
In a double boiler, or a make-shift double boiler, melt cacao butter in upper dish above boiling water.
Turn off heat.
Once melted, add cacao powder, and honey.
Stir until smooth.
Remove chocolate mix from heat source and let cool.
As the sauce cools, it will thicken.
You can place bowl of chocolate sauce in refrigerator to speed up the process of thickening.
Once the sauce is the consistency of thin pancake batter, individually dip cold strawberries into chocolate sauce.
Place on parchment paper to set.
Refrigerate any uneaten chocolate covered strawberries.