While the garden is abundant with tomatoes and peppers, let's make SALSA! I used what I had on hand today, so it's quite simple and SO GOOD!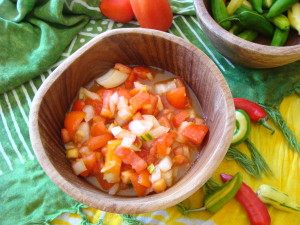 Simple Garden Salsa
Author:
Summer Williams www.SummersKitchen.com
Gluten-free, grain-free, soy-free, dairy-free, egg-free, refined sugar-free, paleo, vegetarian, vegan
Ingredients
16 Roma tomatoes, chopped
1 large onion, chopped*
½ bulb garlic, minced
2 serrano peppers, deseeded and chopped
1 cup tomato sauce
½ cup olive oil
1 tsp sea salt
Instructions
In a medium to large size bowl, mix all ingredients.
Serve immediately, or refrigerate until ready to serve.
This salsa is fresh, so eat within 3 days.
*Note: Light a candle near your chopping station. It will keep your eyes from burning while you chop the onion.
**WASH YOUR HANDS WELL after chopping peppers. You may also choose to rub a little oil on your hands after chopping and washing your hands.
If you happen to rub your eye or any delicate part of your body and experience burning after chopping hot peppers, apply any oil you have on hand to dilute the burning sensation. This tip applies to any burning from essential oils as well.
Save
Save