My cashew cream is dairy-free, gluten-free, soy-free, and refined sugar-free. If you tolerate cashews, they're a great source of magnesium and copper.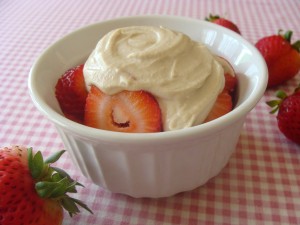 Strawberries and Cashew Cream
Author:
SummersKitchen.com
Grain-Free, Gluten-Free, Dairy-Free, Soy-Free, Refined Sugar-Free
Ingredients
1½ cups raw cashews, soaked for 4-6 hours
2 Tbsps. coconut oil*
½ cup nut milk or coconut milk
4 tsps. apple cider vinegar**
2 tsps. lemon juice
¼ cup coconut sugar***
organic strawberries
Instructions
Drain water from soaked cashews.
Place cashews in a high speed blender.
Add coconut oil, nut milk or coconut milk, apple cider vinegar, lemon juice, and coconut sugar.
Blend until smooth.
Top sliced organic strawberries with a dollop of cashew cream.
*Coconut oil is a wonderful oil to use because of it's anti-fungal properties.
**Apple cider vinegar is NOT an SCD food.
***Coconut sugar is rich in potassium, magnesium, zinc and iron.
Always choose organic berries because they are heavily sprayed with pesticides.