This is my recreation of my very favorite treat when I was little. I just LOVE the push up orange creamsicle! You can find these push up containers on Amazon.com.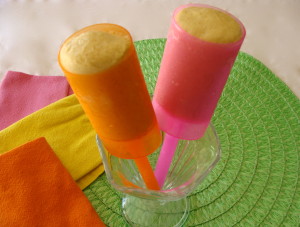 Orange Creamsicles
Author:
SummersKitchen.com
Grain-Free, Gluten-Free, Dairy-Free, Soy-Free, Refined Sugar-Free
Ingredients
½ cup Trader Joe's light coconut milk
½ cup organic orange juice
½-1 cup organic mango
2 Tbsp raw honey
½ tsp vanilla (I prefer pure vanilla powder or vanilla in a base of glycerin)
Instructions
Blend all ingredients in blender.
Pour into popsicle molds.
Freeze for 6 hours or more.