Raw Chocolate Truffles…what more could you ask for?  These rich little superfood nuggets only take 10 minutes to make. Go ahead, honey, it's gluten-free!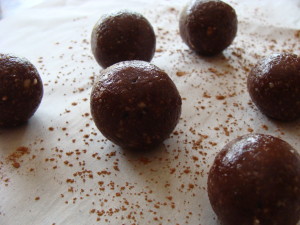 Raw Chocolate Truffles
Author:
Summer Williams www.SummersKitchen.com
Raw, paleo, grain-free, gluten-free, dairy-free, egg free, soy-free, refined sugar-free
Ingredients
1 cup almond flour
¼ cup raw cacao powder
1 heaping Tbsp nut butter
2 Tbsp raw honey
7 dates, pitted
½ tsp sea salt
Optional:
¼ tsp pure vanilla powder
1 tsp maca powder
Instructions
Place all ingredients in food processor.
Blend for 1-2 minutes.
Note: The mix will appear somewhat dry.
Pour the blended ingredients into a medium size bowl.
Grab a small amount of the mix and roll into a ball, the size of a quarter.
Note: As you handle and roll the chocolate balls, they will begin to stick together more easily.
Place on a glass dish and refrigerate.
Can be eaten immediately.