This is the perfect treat on a hot summer day! Cacao nibs are bitter on their own, but the perfect combination with something sweet! Cacao is the raw version of cocoa, and is known as a superfood that can help alleviate stress, improve heart function, and help reduce cataracts. It's also known to help alleviate depression. After all, who doesn't feel better with chocolate?!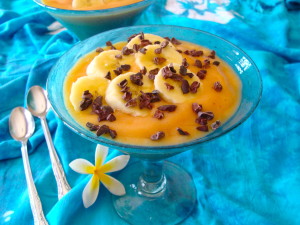 Mixed Fruit Bowl with Cacao Nibs
Author:
Summer Williams www.SummersKitchen.com
Raw, Paleo, Grain-Free, Gluten-Free, Dairy-Free, Soy-Free, Refined Sugar-Free
Ingredients
2 - 2½ cups frozen organic mixed fruit (Costco has a great "Day Break Blend" of peaches, mango, pineapple & strawberry).
1 whole organic banana
1 sliced organic banana
1 - 1½ cups organic apple juice
Organic cacao nibs
Instructions
Place mixed frozen fruit, 1 whole banana, and apple juice in a high speed blender.
Blend until smooth.
Scoop into dessert bowls.
Top with sliced bananas and cacao nibs.
Serve immediately.