The peach trees have been rendering the most prolific fruit in our neighborhood, so I've been making this fantastically easy Paleo Peach Cobbler almost everyday! Sometimes, I even eat it for breakfast!
My Peach Cobbler is SCD, GAPS, & Paleo safe.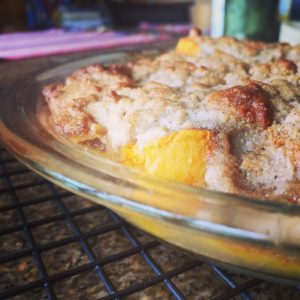 Paleo Peach Cobbler
Author:
Summer Williams www.SummersKitchen.com
Prep time:
Cook time:
Total time:
Grain-Free, Gluten-Free, Dairy-Free, Soy-Free, Refined Sugar-Free, Egg-Free, SCD, GAPS, & Paleo
Ingredients
6-8 large organic peaches, peeled, & destoned
2 cups blanched almond flour
¼ tsp sea salt
4 Tbsp coconut oil
4 Tbsp honey
1 tsp vanilla bean powder
Instructions
Cut peaches into slices or chunks.
Place Peaches in a glass pie dish.
In a food processor, combine all other ingredients.
Spread topping over fruit.
Bake at 350 degrees for 30 minutes, or until top begins to slightly brown.
Remove from oven.
Cool and serve.