Not only does this granola taste amazing, your entire house with smell amazing while it bakes. It has a light and fresh texture, with a rich cinnamon & vanilla flavor mixed with the sweetness of strawberries and banana. Go ahead, honey. It's gluten-free! 🙂
*Trader Joe's has the best selection and prices on nuts and seeds.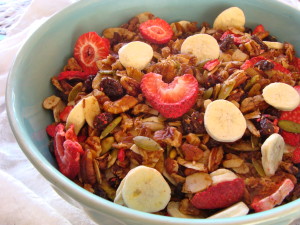 Summer's Paleo Granola
Author:
Summer Williams www.SummersKitchen.com
Recipe type:
Breakfast, snack
Prep time:
Cook time:
Total time:
Paleo, grain-free, gluten-free, soy-free, dairy-free, refined sugar-free, egg-free
Ingredients
1½ cups sliced almonds
1 cup shredded coconut
1½ cups pecans
1 cup pumpkin seeds
¾ cup grade B maple syrup
¼ cup coconut oil
¾ tsp cinnamon
½ tsp vanilla bean powder
½ tsp sea salt
1 cup organic raisins
1 Trader Joe's bag freeze dried strawberries (unsweetened & unsulfured)
1 Trader Joe's bag freeze dried banana slices (unsweetened)
NOTE: Trader Joe's has the best selection and prices on nuts and seeds.
Instructions
Preheat oven to 350 degrees.
In a large bowl, combine sliced almonds, shredded coconut, pecans, and pumpkin seeds.
In a small sauce pan, combine maple syrup, coconut oil, cinnamon, vanilla, and sea salt.
Heat sauce until hot, but NOT boiling.
Pour sauce over nut mixture and stir to combine.
Grease a large cookie sheet with a thin layer of coconut oil.
Spread granola mixture over cookie sheet.
Bake for 20-25 minutes.
Stir and spread granola 1-2 times while baking to prevent burning. (I use a spatula to turn granola over while baking)
Once baked, scoop granola into large bowl.
Add raisins, dried strawberries, and dried banana slices.
Stir to combine.
Let cool, and store in an air tight container.