This is how we get our multi-vitamins! This is my son's favorite juice. It's loaded with Vitamins A, B, C, D, K, beta-carotene,  folate, calcium, magnesium, potassium, phosphorous, molybdenum, manganese, copper, and zinc. This juice is loaded with anti-oxidants, helps purify the blood, reduces blood pressure, supports and cleanses the liver, it's beneficial in treating gout, it's anti-inflammatory, and helps prevent cancer because it fills your cells with delicious nutrients!
Bonus tip: If your urine turns pink after drinking beet juice, it's a sign of low stomach acid. Stomach acid is beneficial in breaking down nutrients, especially protein!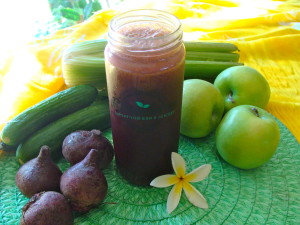 Sweet Veggie Juice
Author:
Summer Williams www.SummersKitchen.com
anti-inflammatory, anti-oxidants, purifies the blood, reduces blood pressure, supports the liver, beneficial in treating gout, helps prevent cancer, aids in weight loss, anti-aging
Ingredients
2 small organic beets
5 stalks organic celery
2-3 small organic cucumbers
6 oz bag of organic spinach (or 3 handfuls of spinach)
6 organic carrots
2 organic apples
Instructions
With a juicer, slowly press each ingredient until fully juiced.
Pour juice into glass containers. Cap with a top if you aren't drinking it right away.
Refrigerate and drink within 3 days.
Best served chilled.