I typically use almonds, brazil nuts, and apricot kernels for my sprouted nut milk. The almonds are rich in vitamin E, all of the B vitamins except B12, manganese, potassium, calcium, magnesium, iron, zinc, and selenium. Brazil nuts are extremely rich in selenium as well! Adequate selenium in the diet can help prevent coronary artery disease, liver cirrhosis, and cancers! Selenium is also rich in B-vitamins, including folate. Natural folate, as opposed to folic acid, is GREAT for people with methylation issues. Brazil nuts also contain copper, magnesium, manganese, potassium, calcium, iron, phosphorus, and zinc. Copper helps prevent anemia and bone weakness (osteoporosis). Manganese is an all-important co-factor for the antioxidant enzyme, superoxide dismutase.
Apricot kernels are also known as B17, a vitamin that is used in cancer prevention. If you do your own research on apricot kernels, you will find that the kernels contain a cyanide that is toxic to tumors and cancerous cells. The maximum recommendation in no more than 8 kernels per day; however, a lethal amount of apricot kernels is closer to 150 kernels per day. Like anything, do your own research, choose food that works best for you, and don't go over board with anything. Even water can be toxic at a certain level, so don't be afraid to learn about foods such as apricot kernels. Apricot kernels can be bought on Amazon, or at some health food markets.
This milk is mildly sweet, and so delicious!
This milk is SCD, GAPS, & Paleo safe.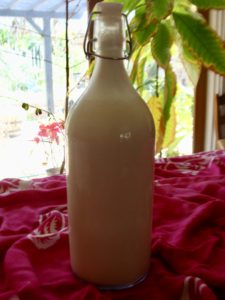 Sprouted Nut Milk
Author:
Summer Williams www.SummersKitchen.com
Dairy-Free, Soy-Free, Gluten-Free, Grain-Free, SCD, GAPS, Paleo, Vegan, Raw
Ingredients
1 cup almonds, soaked in spring water for 4 hours
2 brazil nuts, soaked in spring water for 4 hours
2 apricot kernels (NOT pits), soaked in spring water for 4 hours
4 cups spring water
¼ tsp pink salt
1 tsp raw honey
Instructions
Note: Almonds, brazil nuts, and apricot kernels can be combined for soaking.
Drain soaked nuts and kernels.
Place nuts, kernels, 4 cups spring water, pink salt, and honey in high speed blender.
Blend until milky white and smooth.
Strain through a nut milk bag, or fine mesh strainer.
Store in refrigerator up to 7 days.
Note: Nut milk bags can be found on Amazon. A nut milk bag helps create the smoothest milk possible.