Of all the muffins I make, Mango Muffins are my favorite! With bits of mango, these muffins taste like candy. These muffins are paleo, with an SCD option. Go ahead, honey, it's gluten-free!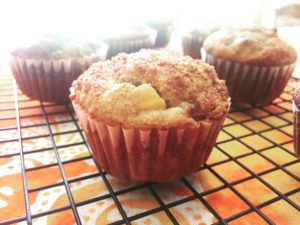 Paleo Mango Muffins
Author:
Summer Williams www.SummersKitchen.com
Prep time:
Cook time:
Total time:
Gluten-free, grain-free, dairy-free, soy-free, refined sugar-free, paleo, SCD *safe option.
Ingredients
3 cups blanched almond flour
3 eggs
¾ cup grape seed oil
¾ cup honey
¾ cup chopped fresh mango
½ tsp baking soda
½ tsp sea salt
½ tsp pure vanilla powder
*Optional: coconut sugar for dusting muffin tops **OMIT COCONUT SUGAR if on SCdiet.
Instructions
Set oven temp to 350 degrees.
Combine almond flour, eggs, oil, honey, mango, baking soda, sea salt, and vanilla powder in medium size bowl.
Line muffin tins with paper liners.
Fill muffin liners ¾ full.
Sprinkle coconut sugar over muffin tops. *OMIT COCONUT SUGAR if on the SCdiet.
Bake for 22 minutes, or until muffin tops spring back to the touch.
NOTE: baking time may vary. Muffins are close to being done when you begin to smell them.