I present to you my simple grain-free banana nut muffins! They're simple to make and easy to grab-and-go!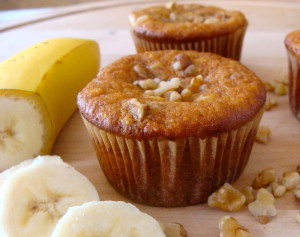 Banana Nut Muffins
Author:
SummersKitchen.com
Recipe type:
Advanced SCdiet, Baked Goods, Snacks
Prep time:
Cook time:
Total time:
This is an advanced SCdiet/GAPS recipe. Grain-Free, Gluten-Free, Dairy-Free, Soy-Free, Refined Sugar-Free
Ingredients
3 cups blanched almond flour*
3 eggs
⅓ cup grapeseed oil
½ cup honey
2 ripe organic bananas, mashed
1 tsp. baking soda
½ tsp. sea salt
**optional: ¼ cup chopped walnuts for topping.
Instructions
Preheat oven to 350 degrees.
In a medium size mixing bowl, combine all ingredients except walnuts.
Line muffin tins with paper liners.
Fill paper liners to ⅔ full.
**Optional: sprinkle with chopped walnuts.
Bake for 18-20 minutes, or until muffin springs back to the touch.
NOTE: Muffins are just about finished baking when you begin to smell them.
*If you can't find almond flour in your area, you can buy blanched slivered almonds at Trader Joe's, and grind them in a coffee grinder. Two bags of Trader Joe's blanched slivered almonds yield approximately 5 cups of flour.