I was craving Sloppy Joe's…so I thought, "How do I make it without the processed mix and bread?" This is how I do it! 🙂
The cucumber an lettuce add a fresh crisp element against the spicy warm mix. My family devoured it before I ccould set the table!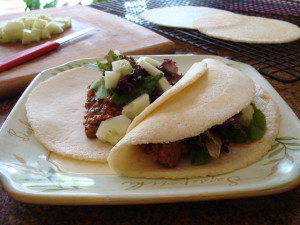 Summer's Sloppy Joe's
Author:
Summer Williams www.SummersKitchen.com
Prep time:
Cook time:
Total time:
Paleo, grain-free, gluten-free, dairy-free, soy-free, refined sugar-free
Ingredients
Paleo Tortillas *See my Paleo Tortilla recipe. Paleo Coconut Wraps or butter leaf lettuce may also be used as a wrap.
1½ lbs ground turkey or grass-fed ground beef
1 medium organic red onion, minced, or finely chopped
1 15oz can organic tomato sauce (I use Trader Joe's)
1 tsp dried, ground sage
½ tsp coriander
2 Tbsp mustard powder
1 tsp chili powder
1 tsp sea salt
1 Tbsp honey
6 cloves black fermented garlic, or 3 cloves chopped/minced garlic
1½ tsp arrowroot powder
1 small cucumber, peeled and diced into small cubes
shredded lettuce or mixed greens
Instructions
Brown turkey or beef in a cast iron skillet over medium-high heat.
Add chopped/minced red onion.
Add tomato sauce, sage, coriander, mustard powder, chili powder, salt, honey, garlic, and arrowroot powder
Stir well and simmer over low heat for 10-15 minutes.
Serve with my Paleo Tortillas, Paleo coconut wraps, or lettuce leaves.
Top with diced cucumber and lettuce or mixed greens.
Save
Save
Save