These bite-size little nuggets are perfect for little hands. They're grain-free, gluten-free, dairy-free, soy-free & refined sugar-free.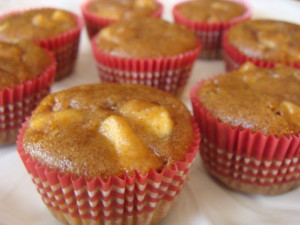 Apple Cinnamon Mini-Muffins
Author:
SummersKitchen.com
Prep time:
Cook time:
Total time:
Advanced SCdiet/GAPS recipe, Grain-Free, Gluten-Free, Dairy-Free, Soy-Free, Refined Sugar-Free
Ingredients
¼ cup coconut flour
¼ cup grapeseed oil
¼ cup raw honey
3 eggs
¼ tsp salt
¼ tsp baking soda
1 tsp cinnamon
½ cup organic green apple, peeled and diced
Instructions
Preheat oven to 350 degrees.
In mixing bowl, blend together coconut flour, salt, baking soda, and cinnamon.
In a separate bowl, blend together eggs, grapeseed oil, honey, and diced green apple.
Combine wet ingredients with dry ingredients. Stir in the love.
Fill paper lined mini-muffin tins to ¾ full.
Bake for 15 minutes or until muffins springs back to the touch.
Cool before serving. Otherwise, the muffins tend to stick to paper liners when warm.
Makes 24 mini-muffins.